Programming with Escher¶
This notebook is a collection of preliminary notes about a "code camp" (or a series of lectures) aimed at young students inspired by the fascinating Functional Geometry paper of Peter Henderson.
In such work the Square Limit woodcut by Maurits Cornelis Escher is reconstructed from a set of primitive graphical objects suitably composed by means of a functional language.
Here the approach will be somehow different: first of all because our recipients will be students new to computer science (instead of fellow researchers), but also because besides recalling the fundamental concepts of abstraction levels (and barriers), primitives and composition, present in the original paper, we will here also take the opportunity to introduce some (albeit to some extent elementary) considerations on algebra and geometry, programming and recursion (and perhaps discuss some implementation details).
This work is to be considered very preliminary, it is not yet structured in a series of lectures, nor it is worked out the level at which every topic is to be presented, according to the age (or previous knowledge) of the students. The language and detail level used here is intended for instructors and teachers, and the various topics will be listed as mere hints, not yet as a viable and ready to use syllabus.
As a last remark, before actually beginning with the notes, the code of this notebook is very loosely derived from previous "implementations" of Functional Geometry such as Shashi Gowda's Julia version and Micah Hahn's Hasjell version (containing the Bézier curve description of the Escher fish used here). I decided to rewrote such code in a Jupyter notebook written in Python 3, a simple and widespread language, to make it easier for instructors to adopt it.
The source notebook is available on GitHub (under GPL v3), feel free to use issues to point out errors, or to fork it to suggest edits.
Square Limit and tiles¶
Looking at the original artwork it is evident that it is obtained by the repetition of a basic element (a fish) that is suitably oriented, scaled, and colored.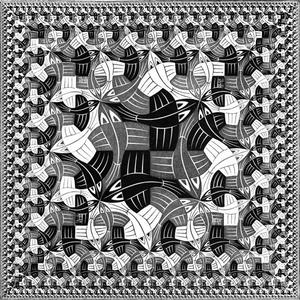 This suggest to start our journey from a tile (a set of lines enclosed in the unit square), that is a drawing building block, that we will manipulate to obtain more complex drawings.
Note that, if one wants to follow an "unplugged" approach, tiles can be actually printed as objects so that students will be able to experiment with them in the physical world to better introduce themselves with the manipulations that will follow.
It is a good idea to start with an asymmetric tile, that will make it easier to grasp the effect of the transformations that will be presented.